Best documentary
Award
"Russia abroad" Moscow, 2014
Farel Prize, Switzerland, 2014 Catholic Festival

R

eligious themes
Festival
Magnificat, Belarus, 2014

Jury
Mention
"Documentary length films"
Jury special Prize
Festivals:
"Film et Spiritualité", Paris, 2013. "Les bobines du sacré", Lyon, 2014
Catholic festival,
"Niepokalanow", Poland, 2014

Catholic festival, "Magnificat", Belarus, 2014
Festival "Russia abroad", Moscow, 2014.

Orthodox festival "Radonez", Moscow, 2014
Orthodox festival, "Pokrov", Kiev, 2014
"Cinema for children" festival, Samara, Russia, 2015
"Golden Knight" festival, Sebastopol, Russia, 2015
Artdocfest filmfestival, Moscow, 2015


Broadcast TLT ( Toulouse), France 2, France,
RTS, Switzerland, 2013

Film music

Nicolaï Greschny


Une affaire de famille

A ProPos Production -
Toulouse Télévision TLT , 52 mn, 2013

Les couleurs de la foi
A ProPos - CFRT - France 2, 26mn, 2013

In search of Nicolas Greschny, one of the greatest contemporary fresco painters. Micha, Nicolas Greschny's son, who has inherited his father's vocation,is carrying on the art of the fresco. He returns to his father's path while shedding his
own light onto the sacred art of Eastern Christians.

Press:
"The film "Nikolaï Greshny", with its delicate artistic realisation, is one of the finest examples of documentary cinema. Everything in this movie – its sound, colour, rhythm – presents a unique canvas and material that conveys something of the immaterial."

Director and writer: Vladimir Kozlov
Camera : Julie Clavier
Sound : Julie Clavier
Music: Nicolas Debard
Editing : Fabien Daguerre
Produced: Annie Serres, Gérard Quéray
DVD
Photos festivals
Pictures
Film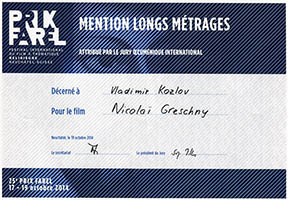 Orthodox festival "Pokrov"
Kiev, 2014

Best documentary
festival "Russia abroad"
Moscow, 2014